This is one of the more complicated aspects of support for ePublisher as it in encompasses every part of the process: Input (which version of FrameMaker are you running), Generation (what language and what operating system are you using) and Output (does the format have the proper support of Unicode, for example).  David Shaked, of AlmondWeb, has a great wiki article here on what you should do for localizing information through the process of input -> output. Also, sense we primarily have web-based outputs, we have to take into account the browser that you are using.   Firefox can handle different languages and wingding fonts then Internet Explorer. This can be a challenge, but if you have access to VM's and the language packs, it will make troubleshooting a little bit easier.
Of course, anyone can be provincial, but the reality is that producing output in different languages is key for many helpsets. The fact that most systems are not unicode-ready will most likely lend to some troubleshooting.  In this particular case, I was having difficulty on only a Japanese system with FrameMaker 9 version.  When working multiple operating systems and different languages, it can be useful to create a table of the combinations in order to know what you have and have not tried. Here is an example of this: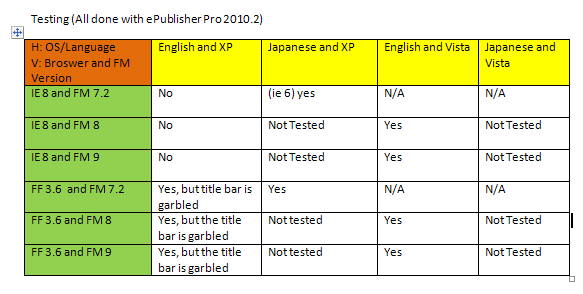 As you can see, ePublisher 2010.2 is the constant, while there is combination OS/Language and FrameMaker/Browser version  that I used.  It can be daunting troubleshooting these different variables, but having a visual representation can be helpful for both Support and Engineering.