WebWorks is an Austin-based company. We have been here for over 20 years. I am a native Texan. I have lived here all my life. I was in Dallas during the heat wave of 1980—a 42-day string of high temperatures over 100 degrees. You could literally fry an egg on the sidewalk for breakfast. So let me tell you, when I got off the plane in Phoenix and said, "Damn, it's pretty hot," it was hot.
It was hot and beautiful, and the perfect setting for STC Summit 2014. I took all the precautions with my crew. "Drink plenty of water," I told them. In heat like that, water is evaporated right out of your skin. It doesn't hurt to mix a little Scotch in with that water. I am a Gin man myself, but we were talking survival here. Lucky for us, the conference was going to be another huge success.
I think for me, this conference started off better than any other had before. We were staying at the Hyatt Regency in downtown Phoenix, and inside the hotel, there is a restaurant named Networks. Doug Pocius is the beverage manager there—go in and say hi if you get a chance—and the food is fantastic.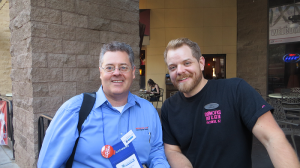 I met Kent on the first day, and we started talking normal hotel restaurant talk, like, "Hey, what you doing in town?" "Where are you from?" "No sir, it is not that kind of hotel." Just the typical small talk. Kent was telling me what he does outside of working at the hotel, and we had a very interesting conversation. He told me about his band and the different sound equipment he uses while they are performing. I asked him if he ever used the manual on any of those, and he said, "The manuals just aren't convenient for me, so I just pretty much figure it out on my own." He explained what was convenient for him was forums and just word of mouth. He said, "You know, the manuals probably have all that information, but it is not easy to find. I mean, use the terms I am familiar with, or put it on my phone. It is easier for me to look stuff up on my phone." I told him that was great feedback, and I was heading into a building where a lot of smart people were going to figure out how to give him exactly what he wants. Kent seemed to appreciate that, and really that is what it is all about: making our audience happy.
So, with Kent's feedback in mind, I hit the conference.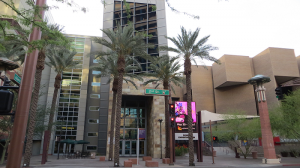 The first day was fast for me and the team. Jack and Lauren headed to the exhibition floor with our channel partner, Georg Eck from SQUIDDS. Georg's team has developed tools and a workflow for the most advanced mobile delivery system I have ever seen, but I will have to get to that later. The Phoenix Convention Center is just a fun place to be. It looks modern, bright, and new. Walking in just got my blood pumping and made me glad I came.
I gave my first presentation at 9:45. It was titled "How to Get What You Want, When You Need It." I have been on the presentation circuit for a while, and I have seen some fantastic presentations. We all talk about building the importance of documentation and how we can improve workflows, systems, and content to increase value. It had dawned on me that we really have not spent a lot of time teaching technical communicators how to pitch these fantastic ideas so they can get upper management approval, or as I like to call it, "buy in." So I went through a five-step process on how to position those ideas to give the best opportunity for buy in. Before you ask, no there are no slides for that presentation. One of the skills you need to pitch your ideas is that of listening. You also have to be the one to start the conversation, so for my presentation, I told the audience they would not have any slides and would have to practice their listening skills while we were going through the presentation. I also stated, "Without any references, you are going to have to ask questions in the presentation. Let's get you talking, because this is a conversation you are going to have to start." I think it went well.
My second presentation was with Bernard Aschwanden from Publishing Smarter. We talked about having a revenue-generating mindset when developing content. Bernard has been in the business for a while, and as a consultant has helped a lot of companies look at their content with that mindset. The two of us on stage offered a lot of useful information, and a lot of entertainment. I really like presenting with Bernard; we have similar styles, and even though we get detoured, the trip is well worth it.
Monday night was karaoke night. That is pretty much all I remember about Monday night, and I have been told all pictures have been destroyed. This is just one of those reasons why it benefits people to actually attend STC.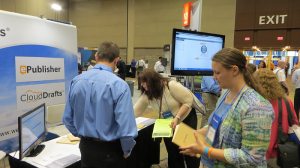 Tuesday started off with as much energy as Monday. That is one of my favorite things about STC Summit. Everyone is excited to be there. There were a lot of first timers, and tons of them came by the booth to see Jack and Lauren. We are launching a new product this year, CloudDrafts, and we were giving sneak previews at the booth—another benefit to attending in person. CloudDrafts is a collaborative management system. We understand there are a lot of collaborative tools out there, but none of them are really designed for technical communication workflows or have the management features needed to run projects with a team.
The next presentation we attended was Jack Molisani's "Monetizing Your Content."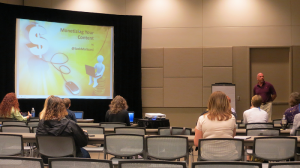 Good, good presentation with some charts that will blow your mind. If you didn't go, I would recommend getting on the STC website and getting a pass for those presentations: http://www.stc.org/education/technical-communications-summit/summit-at-a-click
The last conference presentation for me was with Georg Eck, our German Channel Partner. Georg was presenting his case study with Bihler. The case study solved a multi-device publishing problem Bihler was having. Bihler makes these huge stamping machines. They range anywhere from 500 to 2 mil Euros.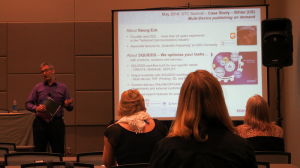 On all of these machines is a touch screen used to control and adjust the machine itself. It is also used to display the help manuals when requested. Like my friend Kent, the technicians that were working on these machines did not find it convenient to switch back and forth from a control panel and PDF on the same display. It was actually very unproductive. Georg and his team came up with a workflow that could deliver the manuals to a mobile device that the technicians carry with them—any device the technician prefers. All the technician has to do is walk up to the machine that needs service. On the machine are individual QR codes. The technician scans the QR code with his/her mobile device, and the correct manual for service loads. Bihler loved the results. They showed the workflow off at a conference, and they increased new sales by 2%. Next year, they are outfitting their entire sales team with iPads so they can show the workflow in their demos. What a way to end a conference, with a case study that showed just how important and revenue centric documentation can be. I didn't think it could get any better, but I had forgotten about the awards show that night.
The last night of the conference always includes the awards show. Deserving recipients collect awards for achievements they earned throughout the year. The Society of Technical Communication recognizes exemplary performance on the national as well as the local level. It is a well-deserved banquet, and yes everyone cuts loose and has some fun. Here is a quick video: 2014 STC Summit Awards
It was an awesome Summit, and again, I am glad we were there as presenters, exhibitors, and attendees. If you have any questions or want to know more about where we are going next, just email me at christopher@webworks.com.