As you may or may not know, I am all about anything pink, so I decided to customize the new WebWorks Reverb skins to add each of them to be pink! Using these instructions, I began my quest to get Hello Kitty-esque themes in my project. The first and perhaps most important step in getting your custom themes created is to create different targets in the project so that the customized CSS will have a place to live: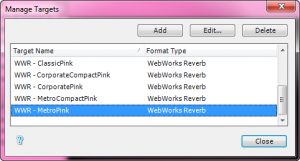 If you are not familiar with how to add Targets, refer to this documentation on the subject. Here is also a refresher on what I am referring to when we talk about targets (versus output Formats in your project). So once we have these created in ePublisher Designer( in creating customizations like this you will need to use Designer not Express).  You will need to select the desired theme to customize  in the Target Settings, by going to Target -> Target Settings -> WebWorks Reverb -> Skin.  This will bring up a popup window that lets you select the plugin file and for the highlighted Target "WWR – MetroPink", for example, I am chosing the WebWorks Metro Red, just because it is close to pink, but you can choose anyone you want: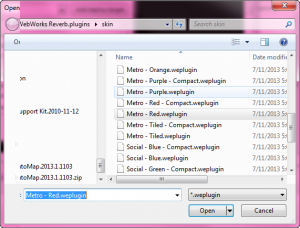 Now at this point, most would start going to the CSS customizations, but for the purposes of this demonstration, we are going to continue to select the different Targets and assign different skins to them. There are 36 different color combinations, but for the purpose of the demonstration I will upload the main 4 different skins: Metro, Classic, Corporate, and Social, which doubles when you consider the compact versions of these.