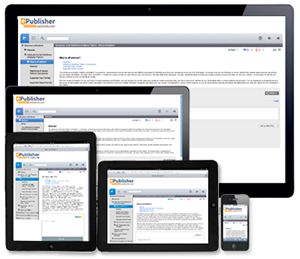 This is the second installment of my three-part blog series, which began on June 8, entitled Hot Topics From STC 2012. This series brings to light the three hottest topics at this year's STC Summit 2012; change, multi-platform mobile devices, and new ways to look at workflows. The first installment covered the topic of change, so in this post I would like to move on to our second topic, multi-platform mobile devices.
The multi-platform topic seems to be an issue EVERYONE has been discussing lately; I'm not just talking about the technical communication industry, but anyone with a web appearance. I personally, have read many articles and researched this topic thoroughly prior to the release of our in-depth whitepaper entitled Responsive UX Design just over a week ago. The whitepaper covers one of the more popular solutions to cross-platform viewer experience achievable today. In today's market, WebWorks ePublisher is the only authoring tool that automatically codes Responsive Web Design directly into the users output. Now, I'm not bragging (well, maybe just a little), but my primary goal is to let you know that we have done our research on the topic of Responsive Design and what I find missing in almost all of the conversations is the answer to the following questions: Why is it important to be cross-platform compatible? I believe the reason for the omission of this question is that most writers feel their audience already knows why it is important to be cross-platform compatible and therefore think the knowledge is inferred.
So why is multi-platform compatibility so important? The fact is that because there are so many individuals watching this topic today, there are a number of different reasons why it is so important. Personally, I feel it is important because a business wants to reach its entire audience, not just part of its audience. With the advances in mobile technology, more and more of your audience is receiving your content on the go using various mobile devices. A successful company needs to be prepared to meet this demand.
My company's mission is to help businesses retain their customers, which is why we developed our solution in accordance with this growing trend. We looked at several different ways to resolve the issue of cross-platform compatibility, specifically focusing on the three most common solutions described below, in order to determine the most viable.
Dedicated Mobile Sites
The concept of dedicated mobile sites simply means managing two separate sites: one for desktop viewing and another for mobile users. In this scenario, viewers are directed to the appropriate site when their device characteristics are detected.
We do not see this as a valid solution for a couple of reasons. First, you are doubling your workflow, as two separate sites means you have two sites to maintain because your mobile compatible site is completely different. You're managing separate forms of navigation, imagery, and at times even content, and this can easily get out of hand or cumbersome to maintain. Second, this method can have a negative effect on your SEO rankings. Having two separate sites with similar content but separate locations can easily have a negative effect on the link juice depicting your ratings. This can also affect your user experience; for example, when a mobile user submits a search query, it has the potential to return content from both your desktop version and your mobile version. If users click on a desktop result, are detected as a mobile device, and then are redirected to the alternate mobile content, they may not be able to find the pertinent information they are looking for. For these reasons, we decided to discount the dedicated mobile site as a viable solution.
Mobile First
The mobile-first solution focuses on adapting content to the smallest device possible. The theory here centers on the concept that when your users move to larger devices, the content will resize to adapt to the larger viewport. This approach was very popular when it first came out; it seemed to be a solution of relative simplicity, and to a degree, it is. However, I think we need to redirect that experience. The process of authoring should be simple, allowing authors to focus on delivering their message to their audience rather than to a particular device. One problem with the mobile-first method is that quality is easily lost. I have seen sites that look great on small devices, but when rendered in larger devices, they become fuzzy and harder to follow. You also lose the ability to take full advantage of the useful features commonly used in larger devices with this method. Again, this method just misses the mark for delivering top quality across the gamut of all devices.
Responsive UX
The Responsive UX solution is coded within the page itself. This solution is also referred to as fluid design. Basically, the coding makes the page a little smarter. It tells the site to detect the device or viewport size and then display the layout to optimize the screen's real estate. This method focuses on one single site, thereby alleviating the hassle of maintaining a second set of content. It has the capability to handle content around graphics, giving the user the ability and option to scroll a picture, but it resizes text content around the graphics in a readable, non-scrolling fashion. Most importantly, the layout relies on the capabilities of the browser, giving the author freedom to focus on delivering his/her content to the audience. Responsive UX is a technology that is still early in development and fairly fresh to the world of web content, but it has amazing capabilities already, and we feel that as it grows, it will keep getting better.
In summary, after much debate and research on the topic, I, as well as the WebWorks team, feel that the Responsive UX solution is the most progressive, forward-thinking solution, and it offers the most dynamic capabilities to our end users when it comes to the topic of multi-platform capabilities. It puts the heavy lifting on the browser and frees up authors to focus on their content. Furthermore, it lives on a single URL, allowing no deviation in SEO rankings, and it allows users to take full advantage of all the features their device is capable