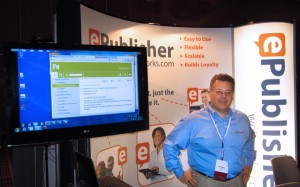 I really like walking into the exhibition hall first thing in the morning. It is very quiet in the room, and everyone is focused on making those last-minute changes to their booths, thinking "Ok, how do I position this pen to catch the eye of potential clients walking by?" Most people would think this level of detail is silly, but if you think about it, all we are doing is trying to use our presentation to help us deliver a message, much like we deliver a message through content. Presentation helps us guide our audience to the things we would like them to see, or places we believe they want to go. An example of this in content is our responsive Reverb output. When it detects a smaller screen size, it expands the table of contents so the user has more relevant information to work with. It changes its presentation of the material to engage the user and improve the experience. Of course, there is one thing that every good communicator thinks about before the presentation, something that is key to the success of delivering any message, but is often hard to understand: traffic.
Here is a good example of traffic. Next time you walk into an exhibit hall, ask yourself, "Would I want to be the booth in the back?" Lack of traffic means lack of opportunity. It is the same with help documentation. Less traffic means less opportunity for you to provide the information your audience needs.
We feel it is important in todays world for technical communicators to understand traffic, which is one reason we always sponsor Patricia Boswell's Analytics for Web-Based User Docs course. Analytics is a good way to measure the "traffic" of your audience using your help documentation. It helps you know where to deliver the most important information so you can be certain your audience will see it. It can also be used as a tool to measure the effectiveness of content. I can see businesses someday using help documentation to effectively measure an ROI from the content they are putting out to their customer base.
I really like Patricia's class, and this year she delved deeper in to the numbers and introduced some new tools. The team and I had a chance to sit down with Patricia over wine and sushi rolls Tuesday night. She told us about her back ground with Google and her extensive knowledge on analytics. She is a very interesting person to speak with and certainly the right person to learn from on this topic.
We both agree that Analytics can and will be a key factor in help documentation in the future. It will help technical communicators analyze patterns in their audience, and with that data, they will be able to shape their content to provide the best user experience by displaying the most relevant content at the right time. If you attended Summit 2012 then you should have access to Patricia's presentation. If you were not able to attend, you can log in and purchase access to all the presentations from Summit 2012 at the same site.