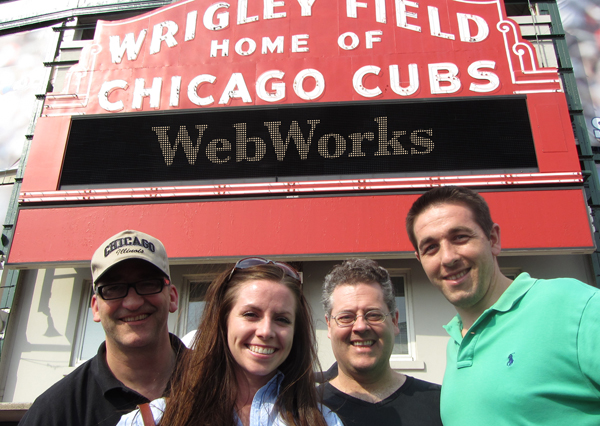 The WebWorks Team landed in Chicago around 11:44 a.m. Eagar to get started, we headed outside the airport to the bus and shuttle stop to catch our ride to the hotel. The shuttle for the Hyatt Regency O'Hare pulled up, and other eager conference attendees boarded with the usual sounds, except for one. Erin, part of our team and much more a stickler for detail than I am, asked the driver, "Hey, is this the Hyatt you are taking us to?" The driver looked at the address she was presenting and said, "No, that is the other Hyatt." The other Hyatt? I was thinking, "How many Hyatts can Rosemont hold?" Well, what a surprise to find out that I had booked rooms at the wrong Hyatt. I had made my first mistake of the conference, and I have not even left the airport yet. Now, it was not as bad as it seemed. The other Hyatt was less than a mile away, but it was still the wrong one, and when I asked if we could walk, I was told the mile was more like Da Nang. Cab escorts for us then.
Making a split decision at the airport, I said, "Take us to the right Hyatt" because I had to set up the WebWorks booth, and let's face it, I was still excited about being at Summit 2012. So, we set up the booth and met our channel partner, Georg Eck from SQUIDDS. Something you have to keep in mind is we had tickets for the 1:30 game at Wrigley Field. It was the Chicago White Sox visiting the Chicago Cubs, and I didn't care if Santa had become a mutant and I had to get him the antidote to save Christmas, I was going to the Sox v. Cubs game first.
This finally tuned WebWorks team set our booth up in record time. Then we headed to our "wrong" hotel to check in and drop off our bags, and then finally on to Wrigley Field. Now STC was the reason for the trip, and I was buzzing with excitement after setting up Booth 208, but back in February, Jack Newman told me that seeing a game at Wrigley Field was on his bucket list. Jack has been with Quadralay for about 4 years now, and he is a big part of the WebWorks family. When your family comes to you with a request, well, you can't refuse. So my family and I made it happen (shouts out to Erin and Georg). The game was legendary. The visiting White Sox beat the Cubs 6 to nothing. We have pics of the family in front of that iconic Wrigley Field sign. If I had to do it over, I would make the same decision and the same mistakes, because that perfect game for the Sox turned out to be the perfect game for us. Jack crossed an entry off his bucket list, and our channel partner for Germany witnessed his first American baseball game at Wrigley Field, Chicago v. Chicago.
When I thought the day could not get any better, we headed back to the conference in preparation for the Welcome Reception and Expo Open. Seven p.m. came around, and the doors opened to the hall with the music and chatter buzzing. I was excited before, but as my old and new friends started pouring in, I just got happy. Manning the Quadralay booth with pride as always, and with the new release of 2012.1, I had a lot of bragging points, but most of the conversations were centered around procedure and our sense of purpose. I can see now that when I told myself back in Rosemont that anybody, at anytime, anywhere can open a help documentation set and do what they were born to do, I was right­, and not only can it happen, but it has to and will.
Finally, with the reception over, Georg, Jack, Erin, and I settled down for the evening meal. Georg and I talked about what he would like SQUIDDs to get out of the conference. Georg is an expert on work flow. He told me that often, Tecom Workflow does not align with business strategy. He told me about how in Germany, Tecom Communicators are experts on procedure, but they often are kept in the dark about overall business strategy. I talked to him about his experience, and we shared our vision. After hours of conversation, Georg sat back, smiled, and said, "Christopher, you realize this is bigger than the both of us," and I said, "Georg, if it wasn't, we would not be interested."