DITA North America this year was held in the sunny city of Seattle. Now I know that sounds a little funny at first, especially if you are familiar with Seattle, but the weather was fantastic. I had been to Seattle once before to visit Boeing. If you have never been, you can see when first arriving that Seattle is a true industrial harbor.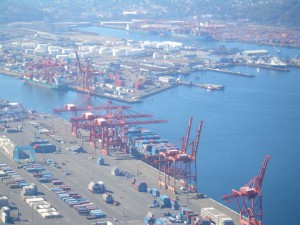 Warehouses and cranes edge up right to the water line just thirsty for work. Every time I see the cranes for moving goods on and off the ships, they remind me of large metal orange giraffes—moving slowly but gracefully, never stopping until the job is done. That view with the mountains in the backdrop just really makes Seattle one of the most unique places to fly in to.
Another thing that made DITA North America special for me this year was having Bernard Aschwanden in the WebWorks booth. I think the message is finally getting out that if you use the Open Tool Kit to generate output, you need to be looking at ePublisher. That generated a lot of traffic to the booth, and even though we are the experts when it comes to generating output from DITA, Bernard is a guru when it comes to transitioning to DITA or improving your current DITA process. I thought it would be good for attendees to have someone to talk to about their situation and offer help when needed. It was a huge hit for the attendees, although Bernard and I almost didn't make it to the conference.
Bernard's flight was delayed, so I called the hotel to let them know we were checking in a little late. Suzanne from Vasont Systems, a good friend and awesome partner with WebWorks, was kind enough to wait with me in the airport. I was telling Suzanne that every phone call I'd had with The Westin about our reservations had seemed a little odd, starting when I called back in March to book our rooms. She said, "Give me an example." I told her we asked for a suite with two king beds, and they replied that they could put the request in the notes, but they couldn't guarantee it so far out. I thought that was a little odd since we were only a month away. When I called from the airport, I asked about the room, and they had the same non-committal attitude. I was a little concerned.
Bernard finally hit Tecoma International, and we headed to The Westin. Upon our arrival, they could not find our reservation. I was ready, because of my sense of impending doom, and I threw down our confirmation number. Type, Type, Type on the keyboard and AHA! He found us. Unfortunately, the reservation was made for April 27th of 2015. I just said no. The front desk attendant looked at me with a blank face, not understanding. He was still smiling, but the word "no" seemed out of place to him, as though he were not sure how to interpret my use of it.I then said, "Who calls in a hotel reservation and gives the year? You say, I would like to make a reservation for April the 27th, or May the 21st, but never Tuesday, March 22nd of 2024. It just doesn't make any sense." What did make sense to me finally were all the previous conversations: "We can't guarantee that, sir, this far in advance." Never did it dawn on me that they assumed we were making a reservation for next year. After presenting my argument, the front desk agreed, and this is where customer service and customer experience has made me a loyal Westin traveler. They hooked us up with the best possible room.

Panoramic view of Westin room 3650
The view overlooked the harbor I love, and Bernard and I could not believe our favor.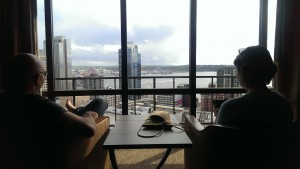 View from my room at the Westin looking over the Seattle Harbor
I often say that content can be the most pivotal asset to a company's continued success. The informed consumer demands information before they make a purchase. The reason is they understand the benefits of being informed. Companies understand that retaining customers is what generates revenue. Let me put those fragmented thoughts together. Upsets come from two things: miscommunications, or expectations that were not realized. Both are what caused my upset at the front desk.At that point, the staff had to exceed my expectations to deliver a positive customer experience. They don't always have the ability to do that. If that suite had not been available, or if a room were not available, then I would have left and never returned. As a business, you don't want to have to scramble at that moment to "fix" things. Informed consumers want to make sure they do not experience an upset, so they do their research before making a purchase. They want to look at content and have a full understanding of what is available and how solutions will be able to deliver to their needs. If they do not get the information, they will not even consider the solution for purchase. This has increased the value of documentation, good documentation, and increased the importance of access before the purchase. Every technical communicator should be aware of this and build strategies around it.On to the conference. We did an unofficial survey of the presentations. Basically, we went into the rooms and counted the number of attendees. The big winner happened on the first day: An Overview of DITA 1.3, by Kristen James Eberlein.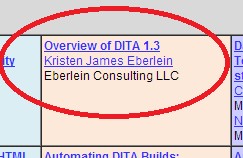 Overview of DITA 1.3 won the day.
It had by far the largest attendance, and a really good presentation by Kris showing the new items in the DITA 1.3 standard. You can find the bullet points and short description of the presentation here: http://www.cm-strategies.com/2014/abstracts.htm#EberleinOne thing to keep in mind: JoAnn Hakos has been running this conference for a while. She has been involved with the DITA movement from the beginning. This conference has a lot of high-level presentations. There are some really smart people out there talking about DITA and where it should go as a standard. If you are new to the idea of DITA, you can catch yourself up here: https://www.oasis-open.org/committees/tc_home.php?wg_abbrev=dita. This is one of the groups that keep tabs on the standard, and you can get updates from the OASIS site.   Now if you do a search on DITA, do not get confused if your search results come up with an attractive woman who looks a little like this: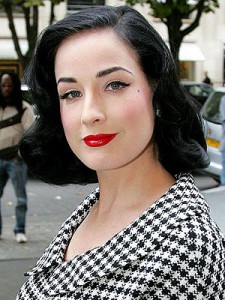 American burlesque dancer, NOT Darwin Information Typing Architecture
This is actually Dita Vonteese, who is an American burlesque dancer, model, costume designer, entrepreneur, and just about anything else you can imagine. She is also more famous than Darwin Information Typing Architecture, and due to the nature of her profession, some photos are NSFW. So be careful when doing your research. She is a nice lady, and I actually met her at DITA Europe.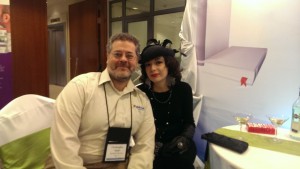 Sitting next to Dita Vonteese at DITA Europe (not really her)
If you are wondering about the beard, it was Movember.Ok, where was I? Yes, so if you are looking to get up to speed on DITA, follow some of those links and be cautious when searching. There are a lot of benefits to DITA, and it deserves a look. I think the biggest obstacle for people is knowing where to start. You don't have to figure it out on your own. Conferences like DITA North America and organizations like The Center for Information-Development Management are great places to gather some information. Consultants like Bernard Aschwanden over at Publishing Smarter can actually come in and help you get started, or refine your process. WebWorks can provide the systems you need to implement the content strategies you decide are best for your environment. ePublisher is by far the best tool to convert DITA source into value output for your audience. CloudDrafts is a collaboration management system that helps you control the chaos of team projects and still allows you to pick the tools that best fit your needs. If you want more information on our systems or any of these resources, just contact us.- Christopher.google {left:100%;display:inline-block;position:fixed}

займ без проверок